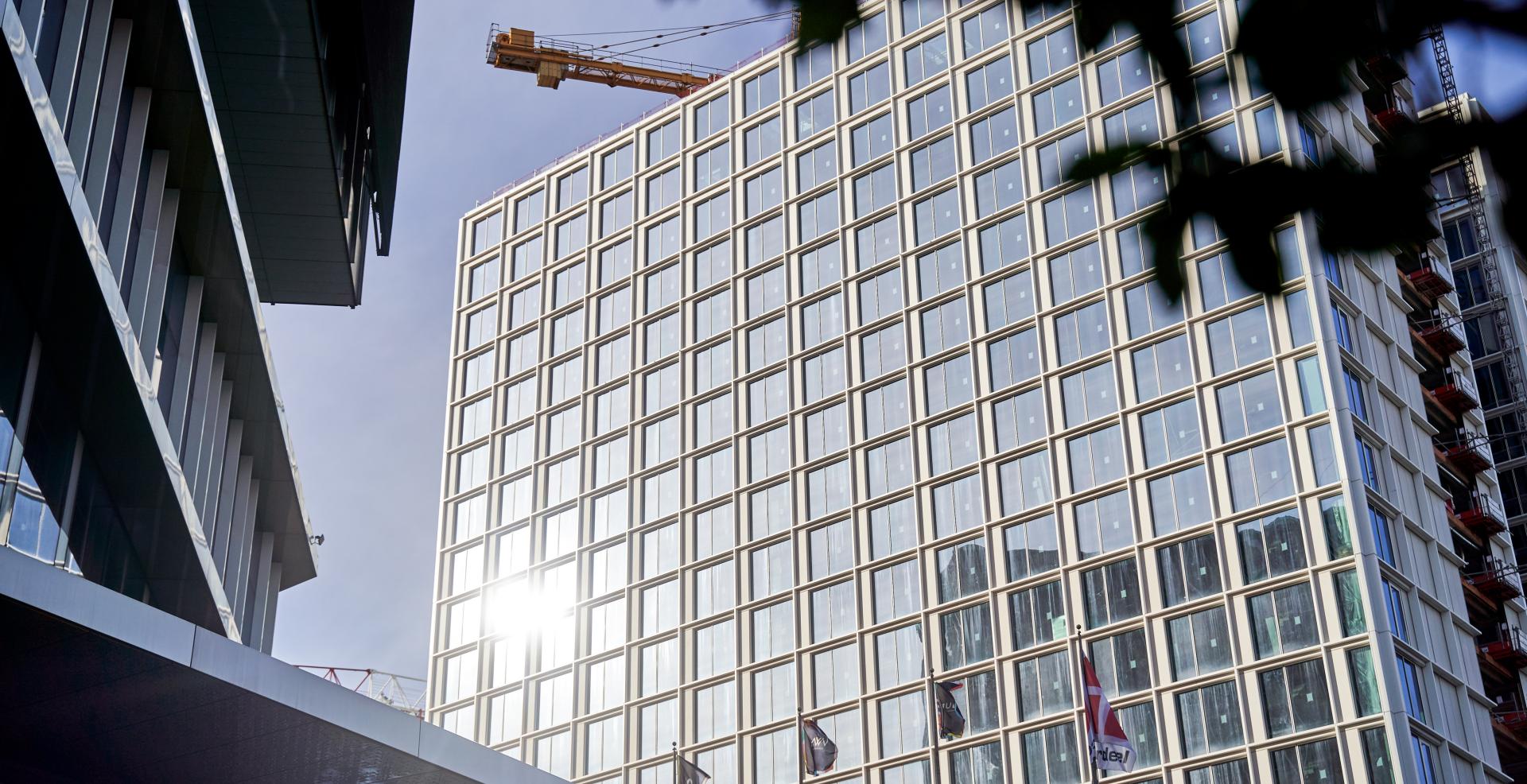 The impact of COVID-19 on the office market has been discussed extensively over the last few months in webinars and in the press. It is still too early to jump to conclusions regarding the office market in general, but we can definitely expect a reduction in demand for certain types of office spaces compared with the period before the health crisis.
While we are preparing for our return to the office, we can already identify the most important parameters for future office buildings.
 
Location, location, location
Location was already a key factor and will remain so.
Today, users want offices to be located in easily accessible and vibrant mixed districts.
This means that COVID-19 is the perfect watershed moment for a number of Brussels' monofunctional business districts to re-invent themselves.
The European Institutions, as the main occupiers of the European district, have a crucial role to play in shaping this transformation.
If the concentration of the offices around Rue de la Loi persists, there is a huge momentum to analyse what is necessary to transform abandoned office spaces in the wider perimeter into residential projects, an evolution that has already been on the political agenda since the masterplan of the Brussels-Capital Region for the European quarter in 2008.
The concentration of offices on Rue de la Loi is the perfect opportunity for Europe to develop socially responsible office buildings that evolve towards hybrid forms and integrate other functions, including housing, culture and services that connect with the neighbourhood. A specific effort is needed at the level of buildings' ground floors (the "city at eye level") so that they evolve from spaces dedicated to security into spaces that encourage social life in the area and support the local economy.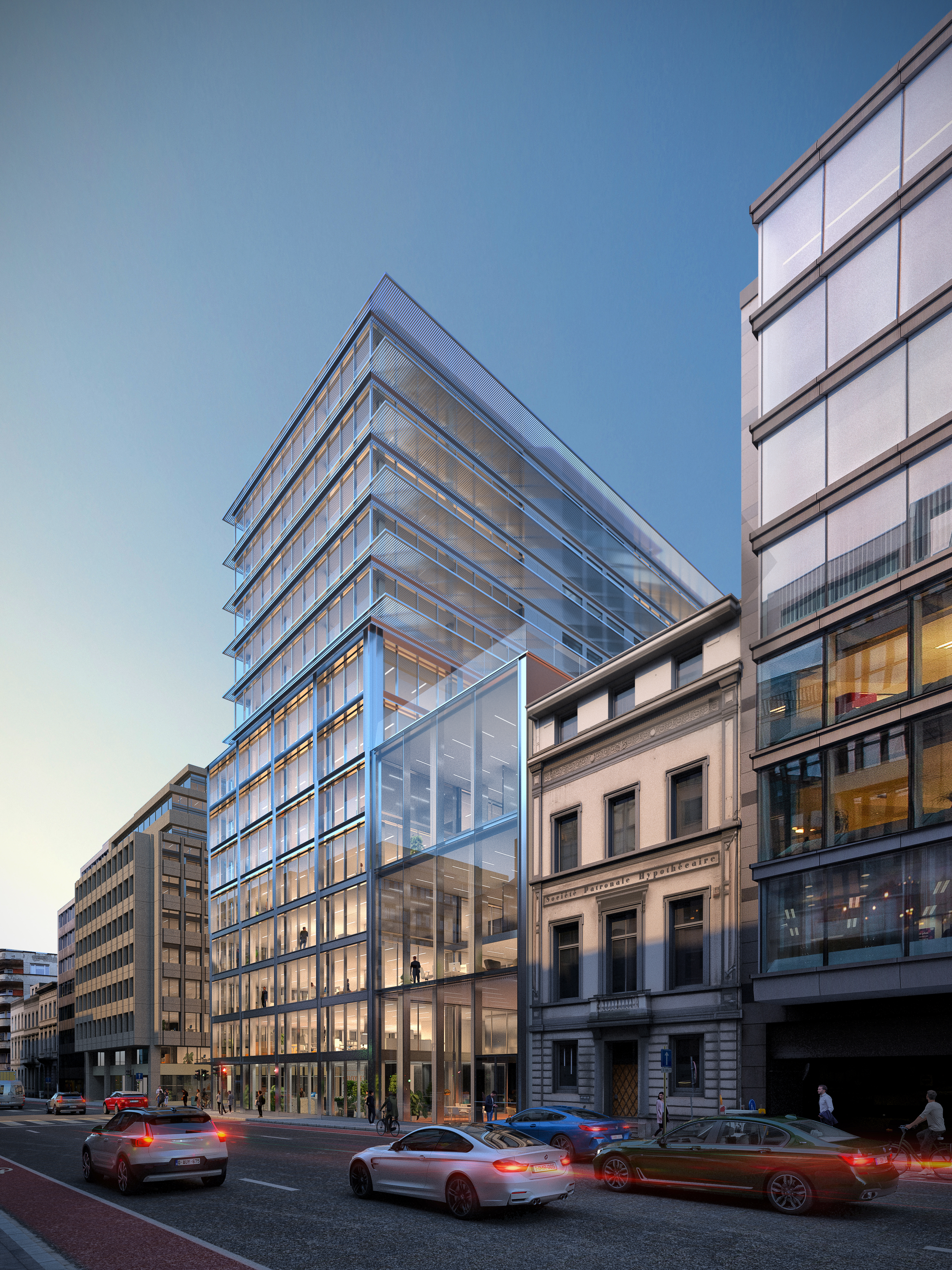 The Brussels North district faces the same challenge of becoming a mixed-use area in the so-called war for employers and talents. It has a number of strengths such as the availability of generous and accessible public spaces that can enable it to become a lively and flourishing metropolis with a human dimension.
The momentum is there, with developers and private companies wishing to make a statement, and a government willing to invest. There is a huge positive vibe and an opportunity to correct mistakes made in the past.
Already today, the hypercenter of Brussels (around Place de la Brouckère) is a great example of the urbanity and a "sense of place" that is required for an attractive office location. The quality of public space and the social and cultural ecosystem in the surrounding area is obviously an asset that adds value to the workplace experience. Immobel, active in the pedestrian zone with three major developments, is playing a key role in transforming this area and creating new synergies between the various different functions and ecosystems.
The CO2-neutral Multi building will already be welcoming new employees by the end of the year. In addition, works will start this summer on the Brouck'R site to let it become a mixed project that unifies city living and working in a single, central city block that opens onto Place de Brouckère.
Immobel will also redesign the iconic, X-shaped Centre Monnaie building into a unique mixed-use complex with a hotel, residential units and agile workspaces as well as publicly accessible functions such as green gardens. This building is intended to become the reference as a shared hub in the "post-pandemic" work in a green environment where connectivity and collaboration are stimulated through smart design and agile spaces (including workspaces).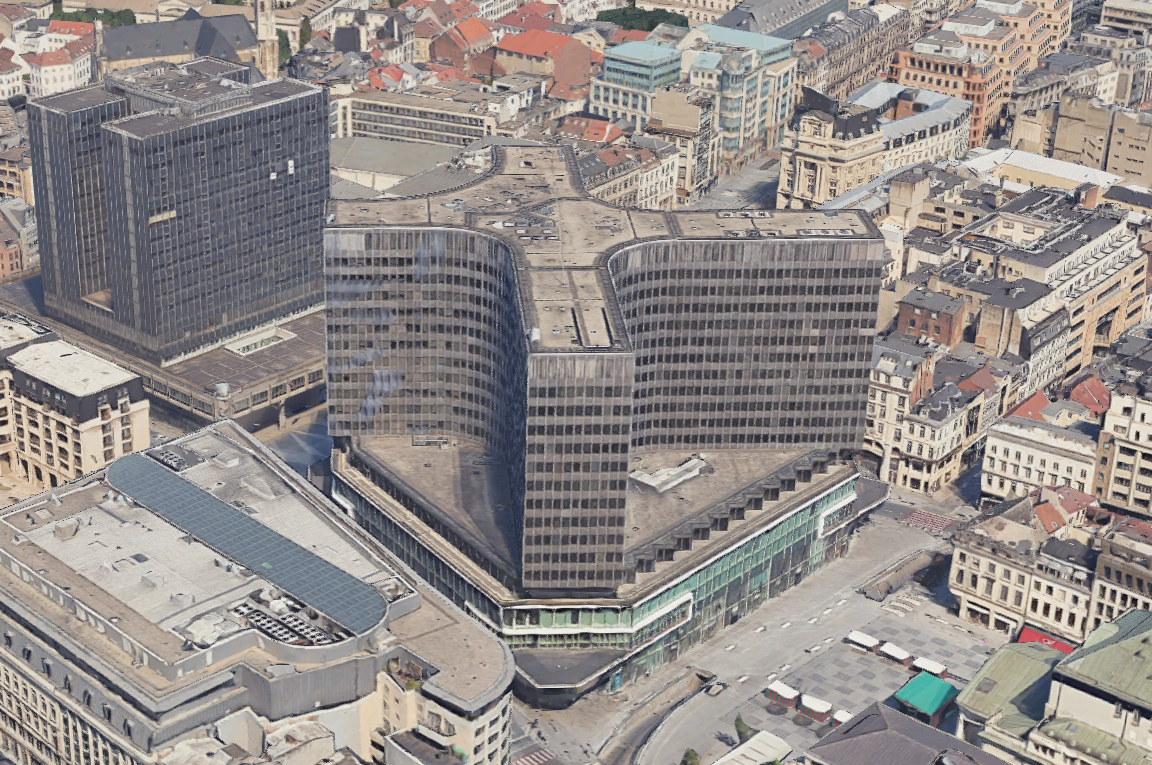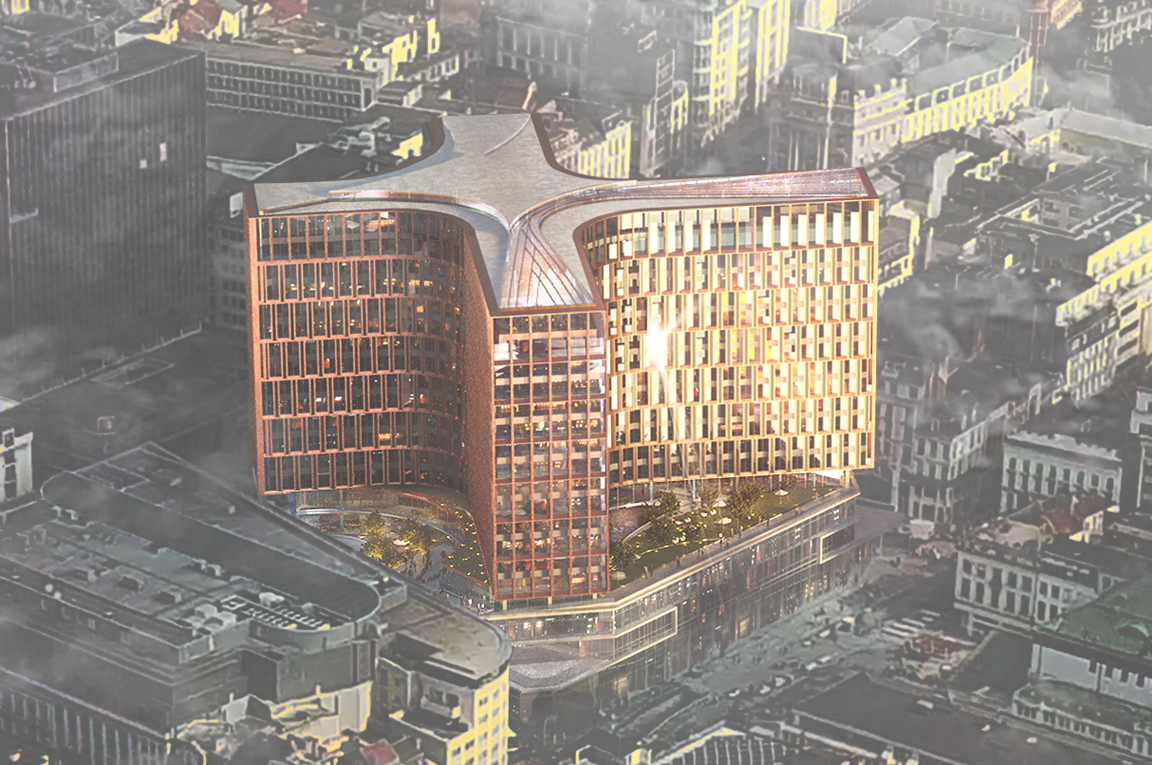 Post-COVID-19 workplace ecosystem: flexibility and hybrid spaces
The emphasis of the office of the future will be more on quality than on size. Smaller desks and workspaces, but more open, communal workspaces, since the workplace will be the place for social interaction, collaboration and innovation. The new office building will feature attractive and modular spaces that provide numerous facilities and solutions ranging from spaces dedicated to wellbeing, communal spaces open to the neighbourhood, gardens, terraces, loggias and rooftops. The future office will transform into an environment in which the distinction between amenities and workplace is blurred.
Large companies will establish a "head office" hub as a symbolic heart of the business and a flagship that represents the identity and heritage of the company - and ultimately makes everyone feel part of a whole, even when he or she is spending a substantial proportion of his or her time working elsewhere. However, the main office hub in the urban centre can and will be complemented with a mix of workplaces, starting from the home base via a series of "third places" such as regional satellite hubs to flexible innovation or coworking spaces that can be used in a flexible manner.
Focus on wellbeing, sustainability and technology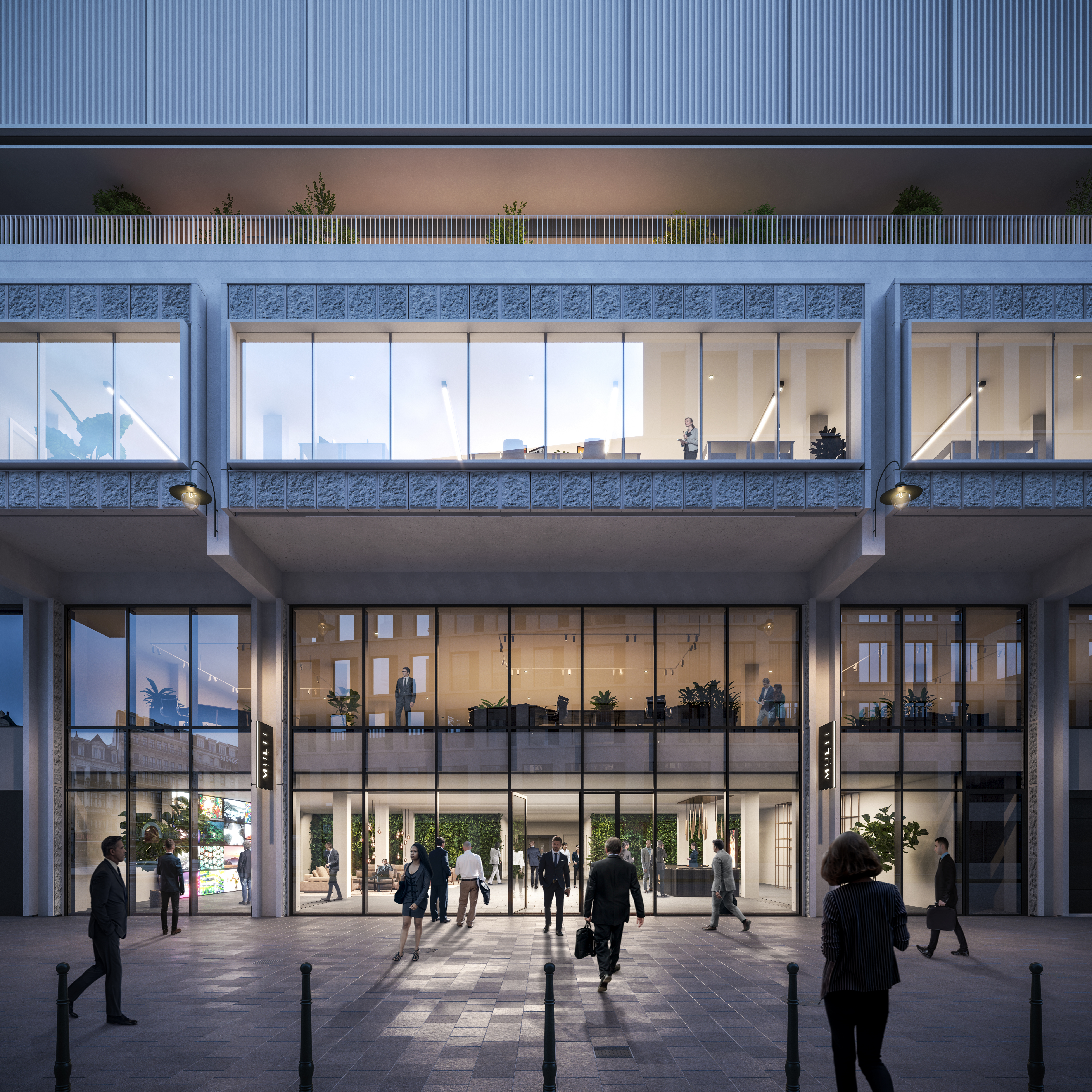 Another major parameter, for employees, employers and investors alike, is the sustainability aspect of the building. The recent announcement by the French group Total that they would move their Belgian headquarters to the Multi building in the centre of Brussels is a choice based not only on urbanity but also on sustainability. It will be the first CO2-neutral building in Brussels with a strong focus on circularity: approximately 89% of the existing materials will be reused.
Immobel's office buildings are evolving towards regenerative buildings with a positive impact on the planet. The ongoing redevelopment projects are designed to have a truly positive impact on buildings and their environment by acting as carbon sequestration sites, by generating and where possible storing energy on-site for surrounding communities, and by acting as a refuge for flora and fauna (on façades, roofs and nearby areas).
COVID-19 has also increased the importance of health and wellbeing for the tenant. More focus will be placed on air quality, maximum exposure to daylight, facilities such as walking routes that encourage healthier habits and lifestyles, and bicycle storage areas to stimulate active mobility, noise reduction, good ventilation and access to green areas.
Finally, technology will play an important supporting role in turning the physical workplace experience into a productive and sustainable place for employees. Modular spaces will be equipped with the latest collaborative video technology and will allow employees to use their smartphones to book a meeting room or to order food for a meeting.
The future office will also connect HVAC systems to smart meters to track and implement the right amount of heating, ventilation and air conditioning and will contain devices to collect data about the energy usage and air quality of an office.
As Belgium's largest listed real estate developer, Immobel will continue to be a leading and active partner in shaping the city and the workplace of tomorrow. Sustainability is a key driver in that journey, for our users, for the community and the planet. For cities, for people.