Located in Luxembourg City at the gates of Kirchberg – a neighbourhood defined by the majestic buildings of the European institutions – Infinity is a real game-changer. After having won the competition organised by the FUAK (Fonds d'Urbanisation et d'Aménagement du Plateau du Kirchberg), Immobel created this complex with the aim to revive the urban environment and turn it into a pleasant place to live, shop and work.
With its two sculptural residential towers – housing 150 premium apartments and 15 affordable housing units – and an office building that is linked to the towers by a retail gallery, Infinity sets the tone for making the neighbourhood increasingly vibrant and resilient. Félicie Weycker, President of the Kirchberg Fund explains: "To prevent people or companies buying multiple apartments as an investment, we limited the sale to one apartment per person. Moreover, for 35% of the apartments, owners are required to live here permanently for at least 12 months. And to ensure we have a representative mix of social backgrounds we allocated 10% to social housing. We want the Infinity towers to be occupied, which will automatically have a positive impact on the neighbourhood."
Infinity perfectly illustrates what the city of the future should look like

Félicie Weycker, President of the Kirchberg Fund
Another way of attracting people is by offering an interesting retail proposition. Infinity Shopping provides a mix of local SMEs, some franchises and plenty of small businesses that cover the daily needs, not only of Infinity inhabitants, but also of the many people working in this business district. Moreover, the many cycle paths and its location near the Philharmonie/Mudam tram stop encourage soft mobility, contributing to the overall quality of life and conviviality of the area.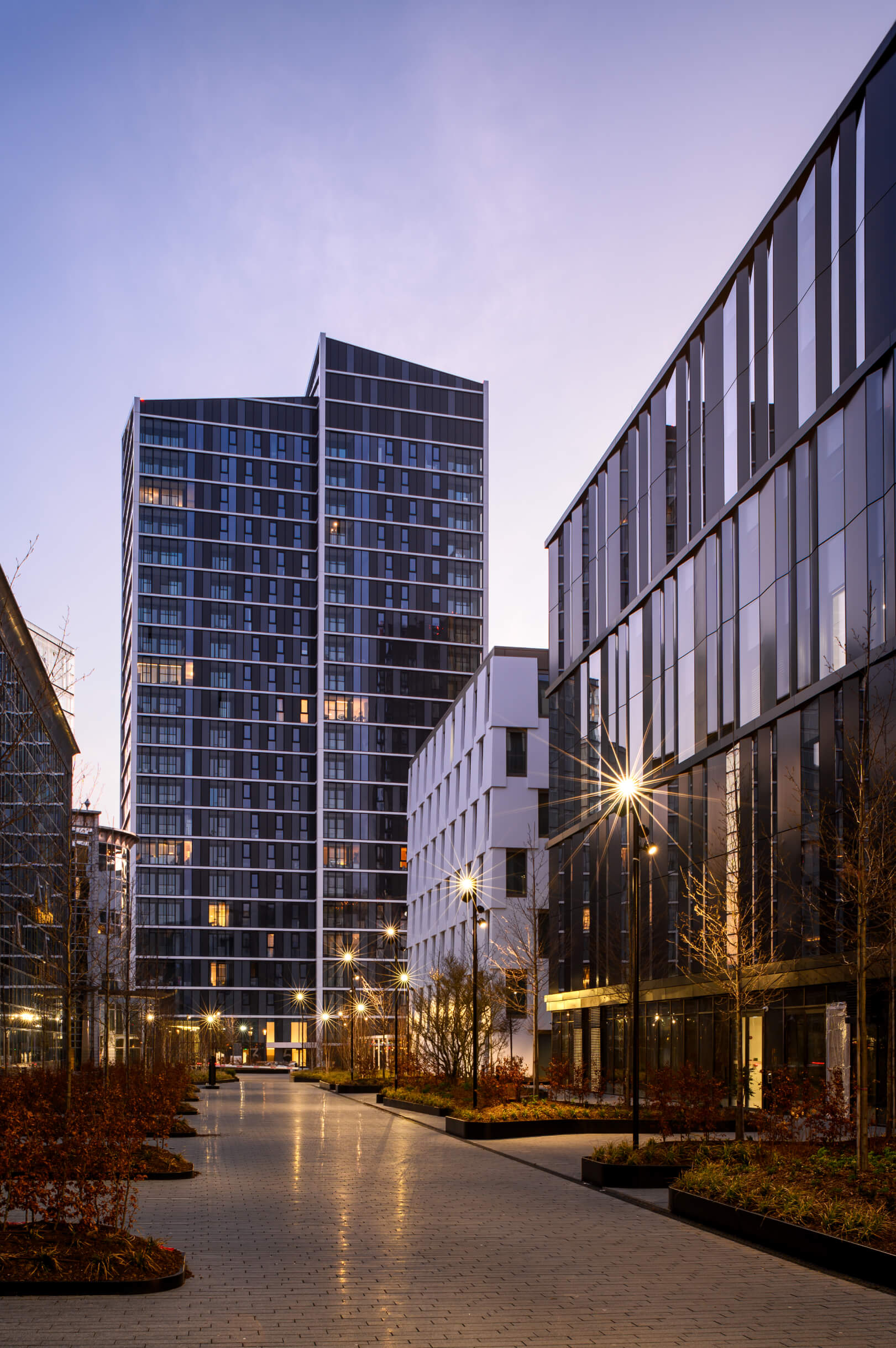 The results are already visible: the open, public space in front of the towers is the beating heart of the neighbourhood, while Infinity has become an important element in the evolution of the district towards people-friendly urbanism.
Félicie Weycker concludes: "Infinity perfectly illustrates what the city of the future should look like: compact yet very functional; sustainable and aesthetic at the same time; accessible and inclusive; in a neighbourhood combining office, residential and commercial functions."