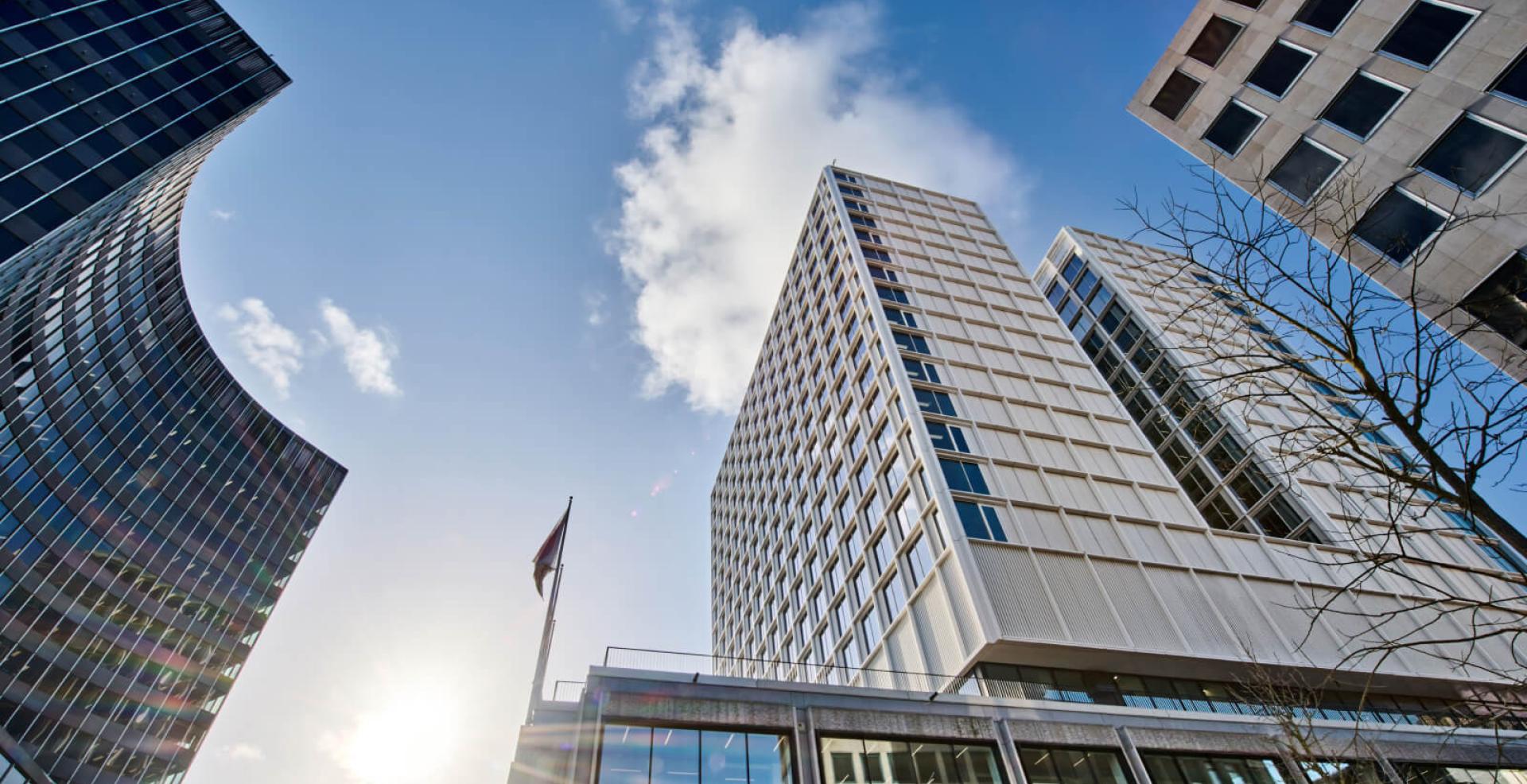 Immobel is increasingly looking into the potential of reused materials, to make the construction process even more circular. With several of the company's projects being in different phases of the building process – from dismantling, through redevelopment to constructing – Immobel can partially rely on its own 'urban mines' to select and reuse materials in its own developments to achieve that circular ambition. 
The company also calls upon salvaged building components experts, such as Rotor, to further integrate and increase circularity into projects such as Multi and Oxy. Furthermore, by joining the Madaster database, which logs very detailed information about all the registered buildings' materials that potentially could be reused or recycled, Immobel wants to give a clear signal to the sector that they are ready to bring the circular economy to the next level.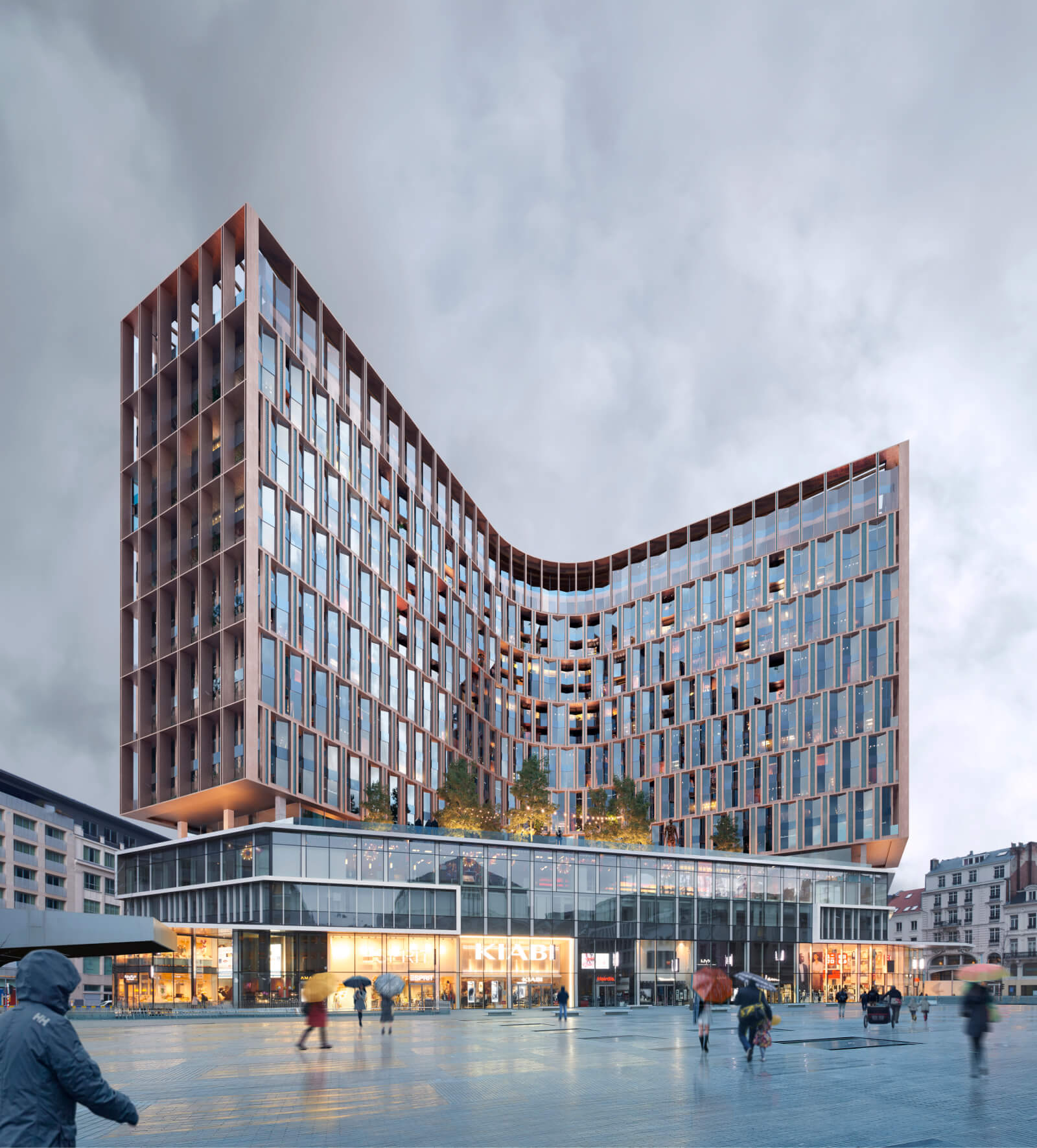 Lionel Billiet, Project Leader at Rotor, goes into detail: "We perform a detailed analysis of the materials used in the existing building, and decide which ones can remain intact or should be dismantled and reused. From a lifecycle point of view, reused material will often score a lot better than new material. For example, reusing ceramic tiles will impact the environment 85% less than producing new tiles." 
"In the Multi project, 89% of the existing building mass was left untouched, saving up to 20,000 tons of CO2," Lionel adds. "And in order to reach the 2% urban mining and reuse goal for Multi, a number of salvaged materials were integrated in the design. Some of the aluminium profiles from the original façade were reused in the atrium's balustrades. The monumental hexagonal granite floor tiles – used to pave the transition between the public terrace and the atrium – originate from the former BNP Paribas headquarters, where they were dismantled by RotorDC prior to the building's demolition. Moreover, two-ton bluestone panels were removed from the façade and cut into floor tiles to cover the new overhang terrace on the third floor. In total, we aim for 250 tons of reclaimed materials used in Multi – sourced from both on- and off-site urban mines – which is a unique realisation." 
To carefully dismantle and prepare salvaged materials, we rely on local, low-carbon and labour-intensive jobs. Applied on a large scale, material reuse would create interesting employment opportunities.

Lionel Billiet, Project Leader at Rotor
In the Oxy project, Immobel does even better with a goal of 1,000 tons, equalling a reuse rate of 4 to 6% of all the materials installed in the project, an unprecedented achievement on that scale. In addition, some of the new materials to be integrated in Oxy will be recycled or bio-sourced, further improving the sustainability scorecard. 
"As sustainability is in our DNA, we are not only working on recycling and reusing materials, we also take into account the socio-economic aspect," explains Lionel. "To carefully dismantle and prepare salvaged materials, we rely on local, low-carbon and labour-intensive jobs. Applied on a large scale, material reuse would create interesting employment opportunities. To give an example of this: a team from Travie, a social company employing people with a disability, is working in our workplace to remove mortar from recovered floor tiles."